Ecommerce
Ecommerce Shopping Cart Solutions
Ecommerce is defined as the ability to sell products or services over the internet (or virtually). Stark Logic has developed a number of ecommerce websites using a variety of ecommerce solutions. Some of the companies we work with include: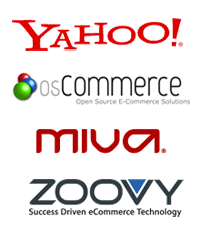 Yahoo! Stores
Ebay Storefronts
Monster Commerce
Agora Shopping Cart
Prostores
OsCommerce
Zoovy
Miva
Paypal
and more…
The ecommerce solution we recommend depends on the number of products you have to sell. The solution for 1 to 10 products is different than a solution for 100s of products. Stark Logic will work you to determine the
best solution for your business.
How Ecommerce Works
In order to develop a shopping cart web site, there are three required pieces:
Shopping Cart software
Credit Card Processing Company
Merchant Account
Shopping Cart Software
There are thousands of shopping cart software solutions on the market today. We listed a number of them above. As we mentioned, the number of products you have to sell will determine which software we recommend. For 20 or more products, we recommend OsCommerce which is the most widely used open source software on the market.
Search Engine Optimization and Ecommerce
The complex task of arranging terms for best search engine optimization for an ecommerce web site is a daunting task dreaded by many. Keywords, page placement, and search frequencies seemingly change minute by minute. Detecting such changes and modifying your data to meet these fluctuating demands is a time consuming, daily chore for many business people and entrepreneurs. Computer savvy people know that page placement is key for success, yet the amount of time required to maintain optimum search engine results often takes time and energy away from other tasks essential for growth. Consequently, there is a need for modern technology to step in and make this task simpler and more effective.
Using an seo software like BareTrax Pro is a great way to get your web site ranked at the top of the search engines and get more traffic and more sales. Visit www.baretraxpro.com to get more information and a free demonstration.